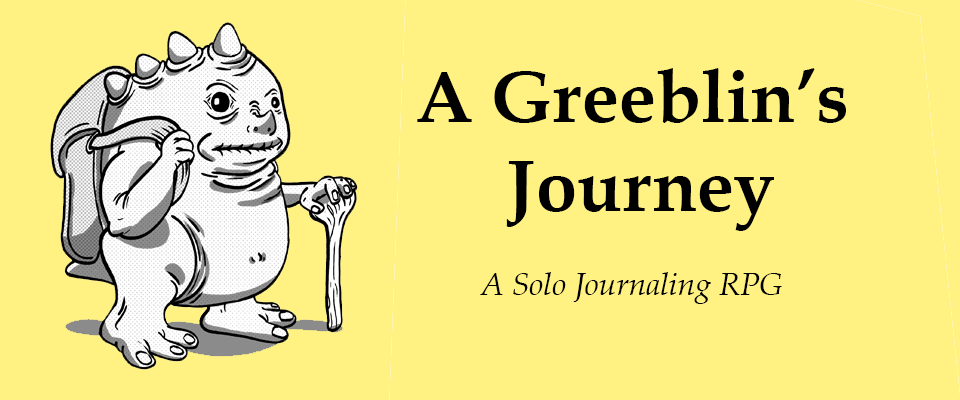 A Greeblin's Journey
A downloadable Solo Journaling RPG
A Greeblin's Journey is a solo journaling game about a traveling creature called a Greeblin. They have become unsettled from their home and are now traveling for the first time in a world they have never explored. The road is strange and not nearly as kind as their bed, but they had to do something. They had to go somewhere.
This project is a digital-only (for now) zine!
The game uses 2 six-sided dice to generate the prompts for your Greeblins adventure, determining the topic and impetus for them to be writing in their journal. The dice also create the score for each journal entry.

The player's goal when rolling dice (and using their characters abilities) is to end the game at a total score of 21. Ending the game at 21 has the Greeblin reaching their destination and ending their journey satisfied.
But going over will cause the Greeblin's chronicle to end abruptly, with them running off course or becoming distracted from their goal by the wide world around them.
This whole adventure will take 20 min to 1 hour of your time and can be replayed over and over again.
The game when finished will include all of the rules for:
Playing the game: all of the rules needed to play the game.
Replaying the game: How to keep things fresh.
Playing with different modes/styles of writing.
Additional Prompts to replace used ones to keep things fresh over many playthroughs.
There will be more too, as it is a game in active development it will likely get bigger than the initial goal of 32 pages of a zine as it is fleshed out and expanded to support many playthroughs.

For purchasing you get access to the current playable version of A Greeblin's Journey and a PDF copy of the final finished game.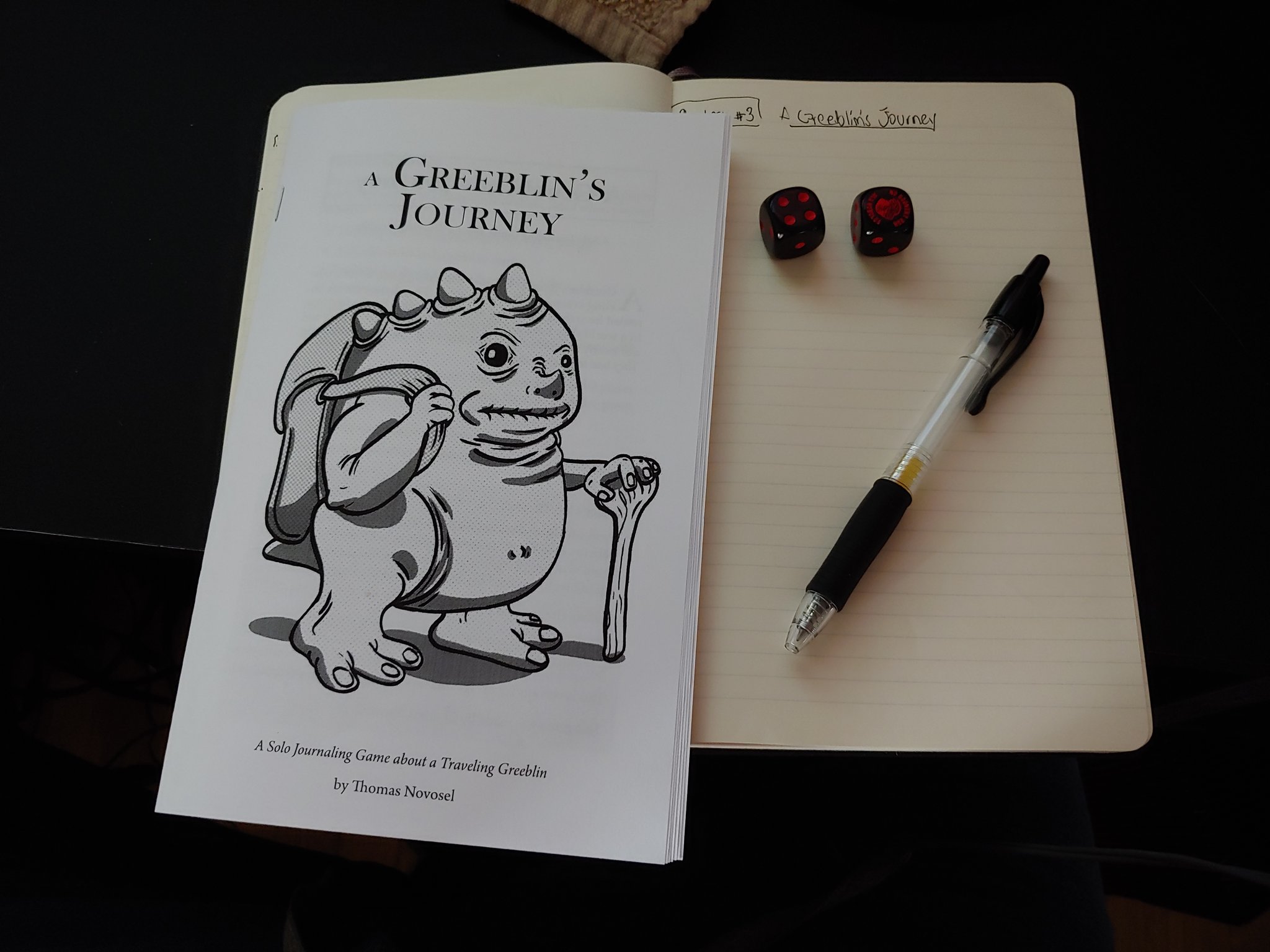 The reason that 'A Greeblin's Journey' is being launched using itch.io is because:
I am in school and want this game to be one of my part-time jobs.
More of the funds go to the person making the game.
Itch has a great dev blog and update system that allows document updates.
If I make it to 50% of my goal, I can still work on the game. Just not to the degree that I would have liked to. That can't really happen using a lot of crowdfunding platforms.
The last reason is that itch.io is the same location where the game will be for sale and allows buyers to get their copies of the game from the same place where it is being developed rather than having to use separate platforms for funding and downloading I can have one solution for both.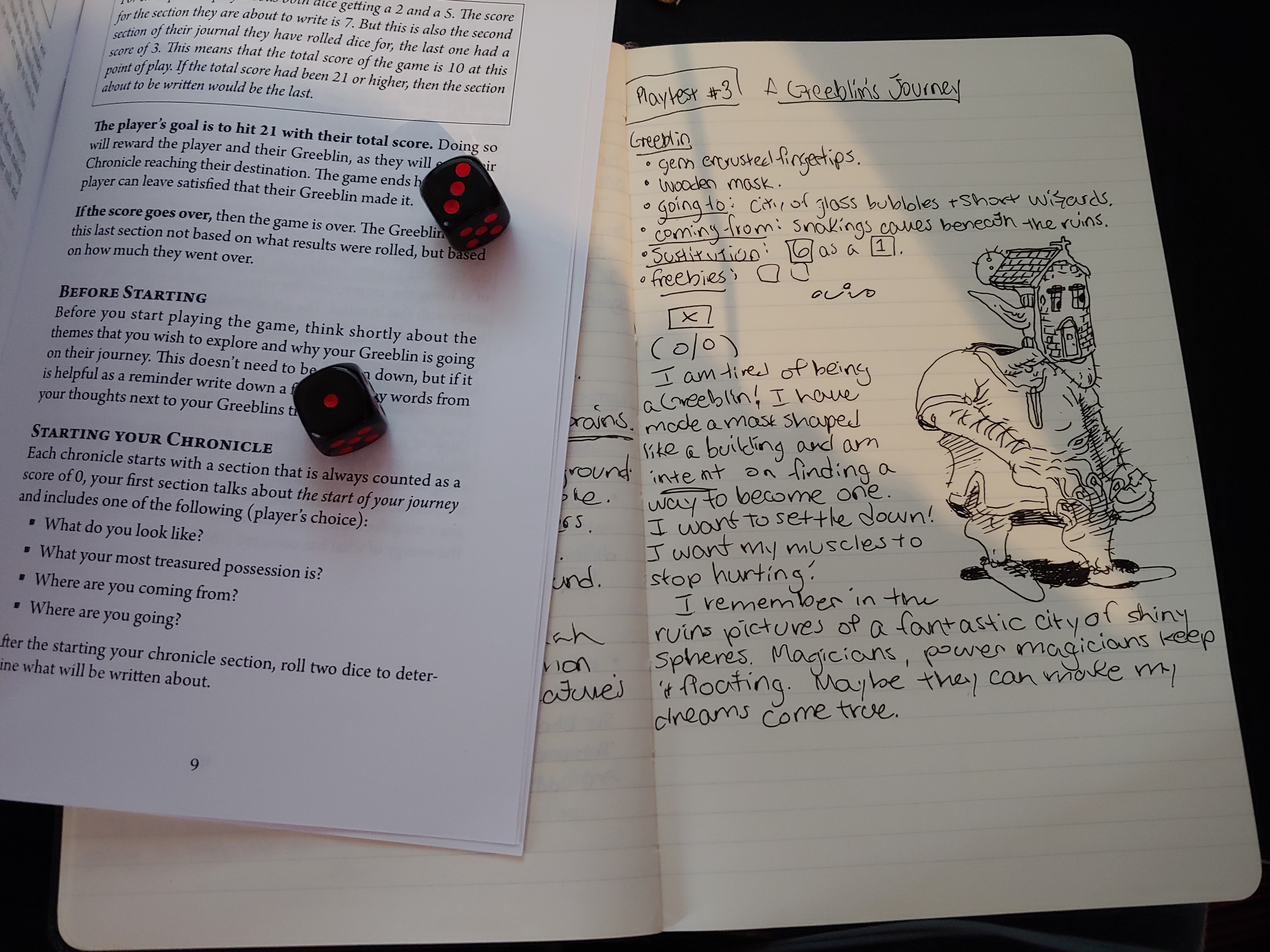 As the funding goal was not fully met, here is an outline of where I am going and what my plan is:
More Playtesting!
Finish writing the Replayability rules.
Finish writing the Modes of Play rules.
Finish zine illustrations.
Have game text edited by my editor (Beau Sheldon).
Release the full PDF version of the games text and what illustrations have been made so far to people who have purchased the game on itch.io
Lockdown sales on itch.io so that it cannot be purchased digitally.
Launch a Kickstarter to get the finished game printed and to fund the production of more illustrations for the game, as well as an in-game artifact-inspired layout.
My original goal was to fully fund the game through itch sales, and then just release the game as a print and play or make a print run of a small zine occur using a portion of the sales made. This has expanded a bit as the game has been developed over time! This is good! It means I will be able to make this game the most that it can be. It also means though that once the full text and current amount of art is finished, that I will need to seek a short funding campaign on Kickstarter to get it printed and help offset time costs of developing the game's art and presentation further.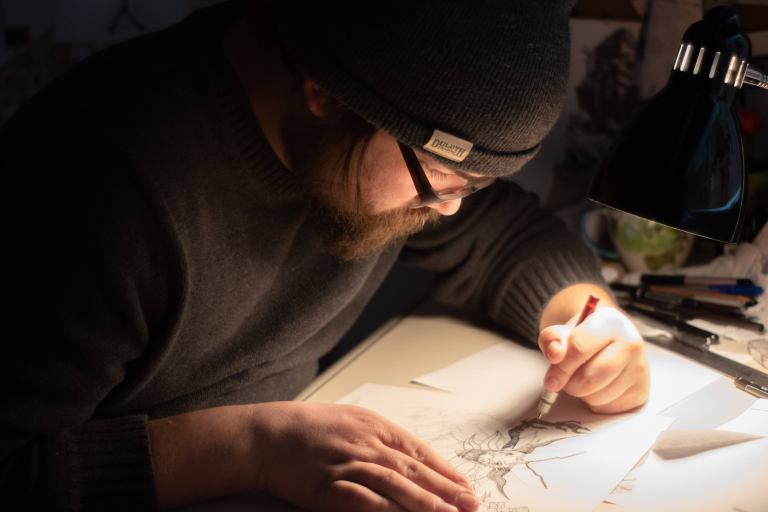 Hello! I am Thomas Novosel. If you know me already it is either because of my art I have done for OSR games or because of my popular one-shot game Runaway Hirelings! Which has been featured on the One Shot Podcast, and Technical Difficulties to name a few. I am a queer game designer and artist who writes short games that are fun and full of fantasy weirdness.

- - - A Link of Importance - - -
My Patreon: Where supporters get early access to published full copies of games, WIP/Playtest versions of in development games, and also access to the Commercial Stock Art Ocean which for $1.00 per month gives you 400+ pieces of Commercial Use Stock Art. Click here to check it out.

Purchase
In order to download this Solo Journaling RPG you must purchase it at or above the minimum price of $10 USD. You will get access to the following files:
A Greebins Journey (Playtest)
647 kB
A Greebins Journey v1,2 - booklet.pdf
809 kB
A Greeblin's Journey v1,6 (DRAFT).pdf
530 kB
Custom Greeblin
Support this Solo Journaling RPG at or above a special price point to receive something exclusive.
Support a Community Copy
Buying this reward gives you a copy of the game in progress, the game when it is finished, and when the game hits its sales goal and is finished adds +3 community copies to the community copy pool.
Make a Greeblin
Buying this reward will allow you to tell me about your Greeblin and I will draw them into the finished rulebook.